Our Town
By Thorton Wilder
Through Arrangement with Samuel French, Inc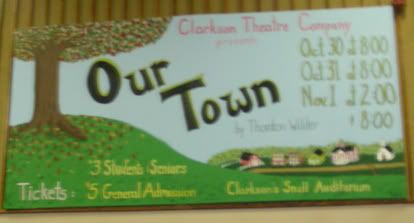 October 30th, 1997 - 8pm
October 31st, 1997 - 8pm
November 1st, 1997 - 2pm & 8pm
Cast
| | |
| --- | --- |
| Stage Manager | Christopher D. Yeckel |
| Dr. Gibbs | Jason Finch |
| Joe Crowell/Si Crowell | Jeff Baumes |
| Howie Newsome | Aaron Rounds |
| Mrs. Gibbs | Cristy Stagnor |
| Mrs. Webb | Astrid E.C. Hedbor |
| George Gibbs | Brad Lund |
| Rebecca Gibbs | Johana Wylie |
| Wally Webb | Patrick Goodfellow |
| Emily Webb | Lauren Hayden |
| Professor Willard | John Davison |
| Mr. Webb | Bob Hess |
| Woman in the Balcony | Krista Freego |
| Dead Man/Ballplayer | Dave Scaringe |
| Dead Woman/Lady in the Box | Sabrina Metzner |
| Simon Stimson | Matt McClure |
| Mrs. Soames | Michelle A. Alexander |
| Constable Warren/Joe Stoddard | Bob Cerwonka |
| Sam Craig/ Baseball player | Derek Morris |
| Townspeople | Krista Freego, Sabrina Metzner, Eowyn Rohrer, Johna Wylie, John Davison |
Crew
| | |
| --- | --- |
| Director | Lindsay Sanford |
| Tech Director | Mike Floyd |
| Stage Manager | Adrian Wheelock |
| set Designer | Lindsay Sanford |
| Costume Mistress | Lindsay Sanford |
| Costume Assistants | Lindsay Martin, Sabrina E Metzner, Astrid E.C. Hedbor, Christy Stagnar |
| Sound Manager | Jeremy Cota |
| Lighting Manager | Corrine Ortmeyer |
| Set Construction | J. Michael Floyd, Jeremy Cota, Corrine Ortmeyer, Rob Klinge |
| Set Crew | J. Michael Floyd, Adrian Wheelock, Rob Klinge |
| House Manager | Keith Eichenger |
| Publicity | Jeremy Cota, Eowyn Rohrer |
| Program | Astrid E.C. Hodbor |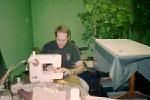 One of Yeck's greatest fantasies is being an 18th century English seamstress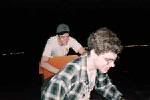 Chairs might not be the most efficient way to play tag, but they sure are the most fun!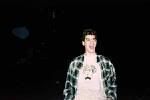 You decide: Just a goofy face or a desperate cry for help?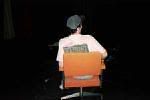 Jeff's better side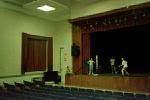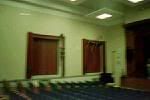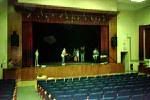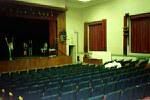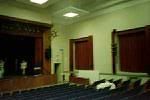 We need a hobby!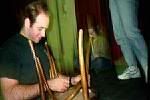 Fixing chairs might be the most valuable skill Yeck learned at Clarkson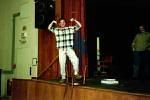 Brad towers over his last kill. Look close. That's Blood! (Brad got bit by a pit bull earlier, but nothing keeps him away from theatre)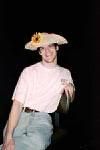 Following the Surgeon General's warning, Jeff refrained from operating heavy machinery while wearing the flower hat.

Aim for "Murder"- but God help you if you hit "Spider"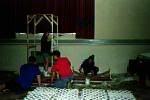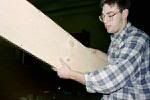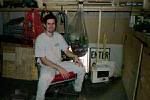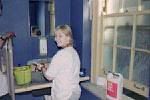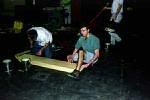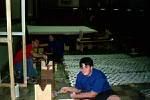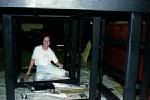 Whistle while you work. Doo doo doo doo doo doo doo.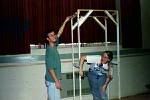 Hey Astrid, I'll bet I can reach higher than you can!